The Atacama Desert, the driest in the world, stretches from Arica (the northernmost city in the country) to the mining area of Antofagasta, and covers the awe-inspiring Pacific coast and the colorful scenery of the Altiplano/high plain.
This region distinguishes itself for its sharp contrasts:  in the vast and beautiful desert, green and fertile oases like Azapa Valley, San Pedro de Atacama and Pica arise. Then, the reddish colors of the mountains and volcanoes of the Atacama region contrast with the blue and calypso of the lakes Chungará, Miscanti and Miñiques in the High plain; and numerous Salt flats receive the traveler with different  white and gray tonalities. Also, the Atacama Desert is considered to be one of the best places on earth to observe the stars, planets and deep space.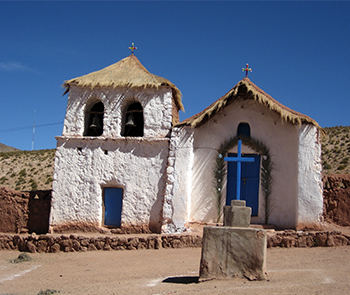 These awesome landscapes guard some of the best kept secrets of ancient civilizations, along with invaluable archaeological and cultural treasures like the oldest mummies in the world (from the Chinchorro culture), Pre-Inca buildings and Geoglyphs.
Aymara ethnicity inherited us a rich culture of traditions and rituals that worship and thank Mother Earth. This respect towards nature and between human beings was reflected in their homes and churches which show us a beautiful perspective of life : reciprocity and respect between human beings and their environment.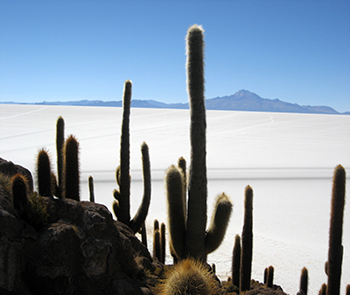 Crossing the Andes mountains, over 4,000 meters above sea level, we find the majestic Bolivian Altiplano/high plains. The landscape is truly amazing:  large lagoons of different colors with hundreds of flamingos, strange rock formations and stunning snow-capped volcanoes, curious herds of camelids and  one of the most astonishing places on Earth, the Uyuni salt flat . With an area of approximately 12,000 square kilometers, this impressive "white and bright sea" is the largest in the world and we  find there islands populated by giant cactuses like the Incahuasi island and the Fish island. On the shores of this magnificent salt flats there are hotels built with blocks of salt, this fact make them world known and very extravagant.