Easter Island
Easter Island, or Rapa Nui,  was declared a World Heritage Site by UNESCO in 1995.   it was officially discovered on April 5, 1722 by a Dutch navigator  just right on the day of Easter. It is located in the Pacific Ocean, 3,526 km far from the mainland, and it is one of the most isolated islands that are "inhabited land" all over  the world.  It is a triangle shaped island of volcanic origin, with gentle hills that contrast with its rocky and rugged coastline.
Hanga Roa town is the heart of the island and where 95% of the local population is concentrated. The "Moai" – stone statues-, are the most important expression of sculpture art in Rapa Nui and have become its distinctive aspect / hallmark.
Within the Rapa Nui National Park we can find small beautiful beaches with pink sand, like Ovahe and Anakena; volcanoes like Terevaka, Rano Raraku and Rano Kau Orongo; prairies/meadows where you can go /travel by foot, by bike or even ride a  horse; marvelous marine life; attractions for scuba divers; caverns and striking Moais.
He spirit of Rapa Nui culture is still alive in its people through the language, their costumes and dances, their crafts, and the food. Tattoos and body painting are another feature of the artistic culture of Rapa Nui. Every February many inhabitants in the island honor their cultural roots in " Tapati", a  two week party plenty of the islanders' traditions with many people painting their bodies as the ancestors did and competing in amazing competitions, singing, dancing, and electing a queen.
Chiloe Island

Isla Grande de Chiloé belongs to the archipelago of the same name and it is conformed for about thirty islands. Located southwest of Puerto Montt, you can access to it by barge and Ferries across the Chacao Channel, as well as by air in commercial flights to Castro city.
It has got a terrain with gentle hills and the climate is mild rainy type. The capital city is Castro and it was founded on February 12th, 1567, making it the third oldest city in Chile. It has a very distinctive architecture in the area with its pretty and picturesque wooden stilt houses. Other significant and recommended towns to visit in Chiloé are Ancud, Dalcahue, Chonchi and Quellón.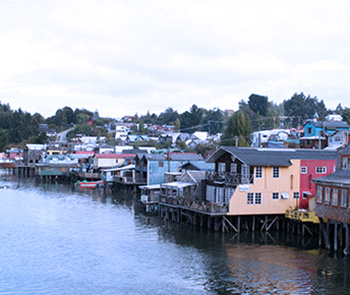 Chiloé treasures many myths and legends like "El Trauco" or "El Caleuche", creating a whole atmosphere of magical realism; customs known by everybody and rooted in its inhabitants until today like "Minga"; crafts in diverse fibers, wool and wood; delicious traditional foods like "Curanto"; and magnificent wooden churches in Castro,Rilán,Nercón and Chelín that have been declared World Heritage by UNESCO.
We would also like to mention the Chiloe National Park, the Tantauco reserve, and the Puñihuil Islets where the Magellanic and the Humboldt penguins that come from far away arrive every year and live peacefully in the same ecosystem.